We strengthen our community through film.
Our mission is to Educate, Inspire, Entertain, and Highlight the Diversity and Commonality of our Community.
To showcase a compelling selection of Jewish films to the Greenville, SC area which educate, inspire, entertain and highlight the diversity and commonality of our community.
To advance and share common interests with the Greenville Jewish Community and at the same time to share and promote our heritage and culture with the general public.
Thanks so much for making sure that the Greenville Jewish Film Festival was on my radar! I enjoyed the reception and loved the documentary! I learned so much and keep thinking about it today.
Gina Blohm
Such an outstanding experience. Proud of these ladies and super proud of Greenville. Wow!
Rick Zepel
Super proud to use my voice in support of the Greenville Jewish Film Festival. If you haven't had a chance to attend the festival, put it on your calendar for next year! Osnat Rosen, Caroline Diamond Warthen, and Helaine Meyers do an amazing job choosing high-quality films, food and speakers to create a powerful community event.
Caroline Durrell Fritz
Such a lovely, organized, informative, inclusive event! So thankful I participated!! Great job! All very impressive! I'm glad to know even more about my Jewish neighbors and history! Thx for all you do for GVL!
Lura Godfrey
Thank you so much for arranging such a wonderful Jewish Film Festival for Greenville. You and your committee thought of everything - a beautiful and comfortable venue, heartwarming and inspiring movies, fabulous foods, and a PERFECT speaker.
Fran Wertheim
This is what the world needs. Crossing cultural boundaries and celebrate what is common. Enjoying music, dancing and having a good time. Make music, not war. Please tell Helaine I am very proud of what she is doing. This is the way to offer peace and understanding.
M.H.
Of all the events I've attended on behalf of The Mamboniks, yours was the most organized and most relevant to the film,
especially by including authentic food and music.
Mambo Judie
We want to take a moment to clarify that our organization is a 501(c)(3) non-profit and does not engage in fundraising activities.
Instead, we rely solely on grants and donations to support our mission of bringing high-quality films to the Greenville community. We believe that access to quality films is essential to a vibrant and diverse cultural scene and we are committed to making this possible for all. So, if you share our vision and appreciate the work we do, please consider making a donation today. Your support will allow us to continue bringing wonderful films to Greenville, and help us make a difference in the lives of our community members. Thank you for considering our cause!
The festival seeks to offer quality entertainment that will create an ongoing vehicle for the Greenville Jewish Community to strengthen its cultural foundation, promote diversity through higher visibility, and grow Greenville's reputation as a culturally vibrant Jewish community.
The GJFF was founded in 2018 by Osnat Rosen, Caroline Warthen and Helaine Meyers. These three women recognized that Greenville, SC – being strategically placed halfway between Charlotte, NC and Atlanta, GA, – was a perfect place to introduce a Jewish Film Festival.
The Kickoff Event featured the movie,"In Search of Israeli Cuisine", and the positive feedback was beyond their wildest dreams. From that moment on, the Film Festival became a reality.
The Greenville Jewish Film Festival in association with the support of other community groups is a nonprofit 501(c)(3) organization.
We hope to inspire appreciation for the various forms of Jewish identity and to foster a warm sense of community.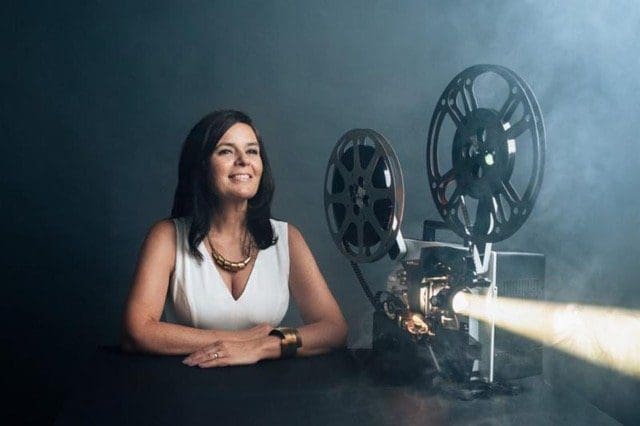 GJFF President 2017 - 2021
Osnat will continue to be our guiding light as we pursue our mission:
Educate, Inspire, Entertain, and Highlight the Diversity and Commonality of our Community.
Photo Credit: TOWN Magazine
We are active in the community!
The Greenville Jewish Film Festival believes in the importance of sharing the spirit of Jewish film with our community outside of our annual festivals, which is why we're getting out there and partnering with some incredible organizations!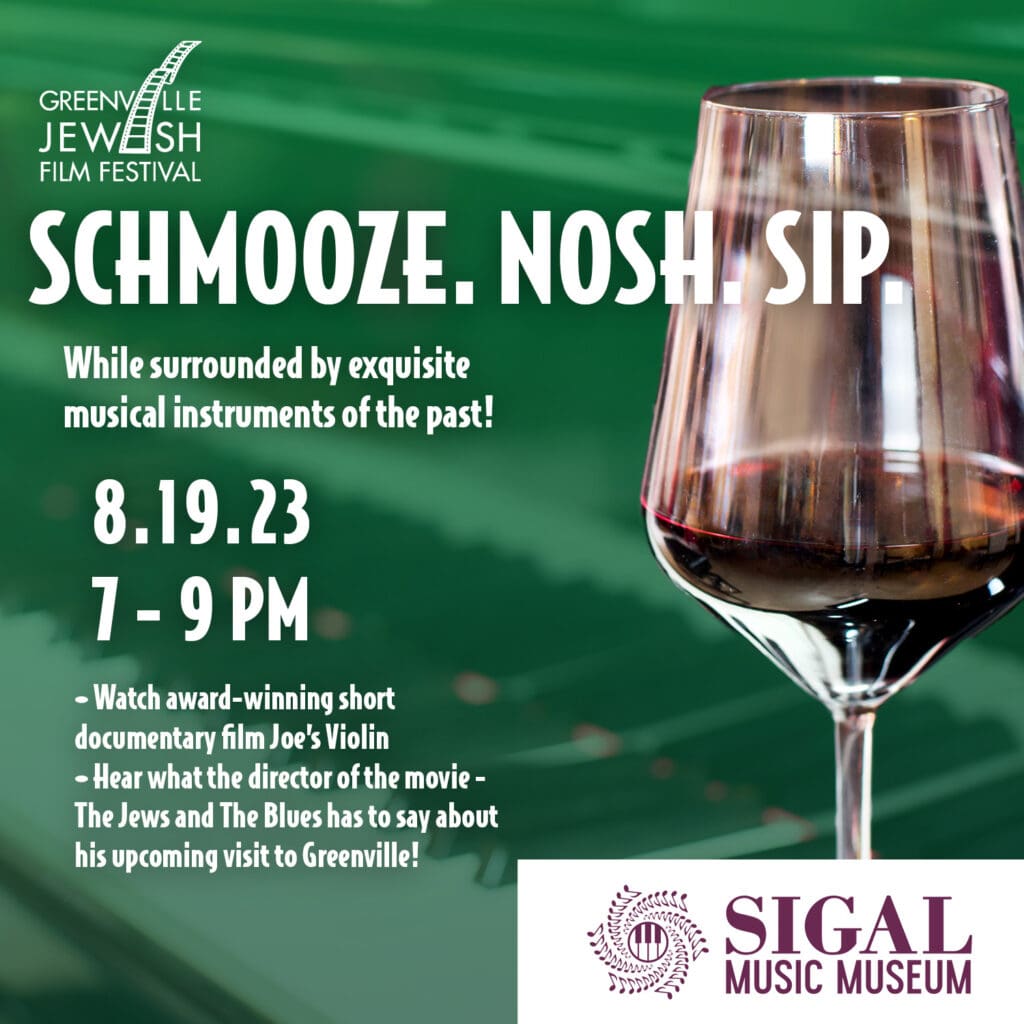 We hosted an exclusive reception at the Sigal Music Museum on Saturday, August 19 from 7-9pm. Our guests were able to visit the musical instrument exhibits and watch a screening of the award-winning documentary short, Joe's Violin.
View More »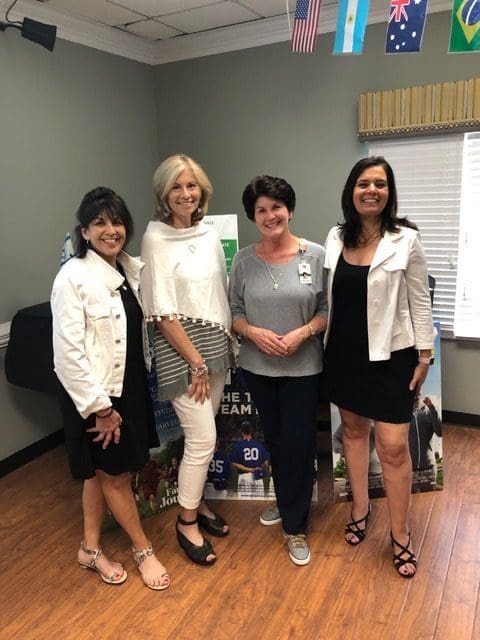 Rolling Green Village is a senior living facility that partnered with us to host a food and film event with its residents. We were thrilled to provide an event that brought art and history to our senior community as well as Middle Eastern foods from the Pita House.
View More »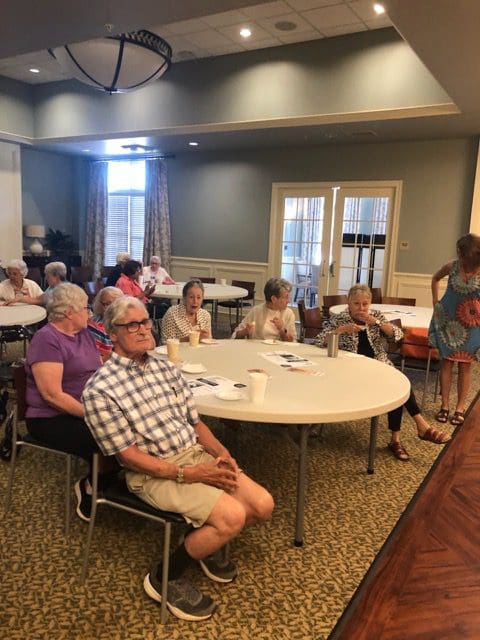 In August, the GJFF was able to partner with The Woodlands at Furman, a beautiful senior living community, to plan a screening of Humor Me, one of the popular films from our last festival. We paired the showing with homemade rugalah and macaroons donated by The Temple of Israel. Thirty residents joined us in creating an uplifting atmosphere, and we were so happy to be there!
View More »